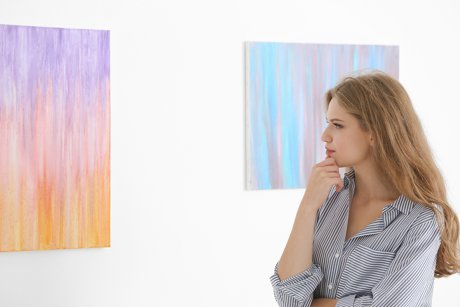 As the old saying goes "a picture is worth a thousand words," and on Phoenix real estate there is truth to the statement. At the Phoenix Art Museum discussions are always in full force. Here exhibits are dramatically thought provoking. With the title of the largest art museum in the southwestern United States, dedication to arts and culture is taken quite seriously. For fifty years folks have perused the halls taking in thousands of representations of national and international works of art. On and off site educational programs and special events encourage a spark of creativity in young artists and residents living in Phoenix as well.
Tours Enlighten Art Enthusiasts Living in Phoenix
Multiple collections are arranged geographically. In the American gallery images date from the 18th to 20th century and feature portraits, landscapes and large scale pictures. With over a thousand paintings, the European collection well represents the Renaissance and Impressionism periods. Asian art pieces are interchanged on a regular basis due to sunlight sensitivity. Many woodblock prints, sculptures and scrolls intrigue and inspire. Latin American art begins with Spanish Colonial examples and transforms into 20th Century art. The Contemporary Collection is forward thinking and continues to progress. Other collections include photography, fashion, modern and Western American.
Trek through the grounds with an expert. The best way to explore the Phoenix Art Museum is under the guide of a docent. Tuesday through Saturday tours take place at 11:30 a.m., 1 and 1:30 p.m. Evening tours take place on Wednesdays at 6 and 7 p.m. Times are also scheduled on Sunday at 12:30, 1:30 and 2:30 p.m. Specific tours showcase either current exhibits or museum highlights. Staff provide insight into the key pieces pricking the interest of those in attendance.
You don't have to reside on or near Phoenix real estate to appreciate the art found in this facility. Take a peek at the Phoenix Art Museum by viewing the virtual gallery from wherever you are.